Technique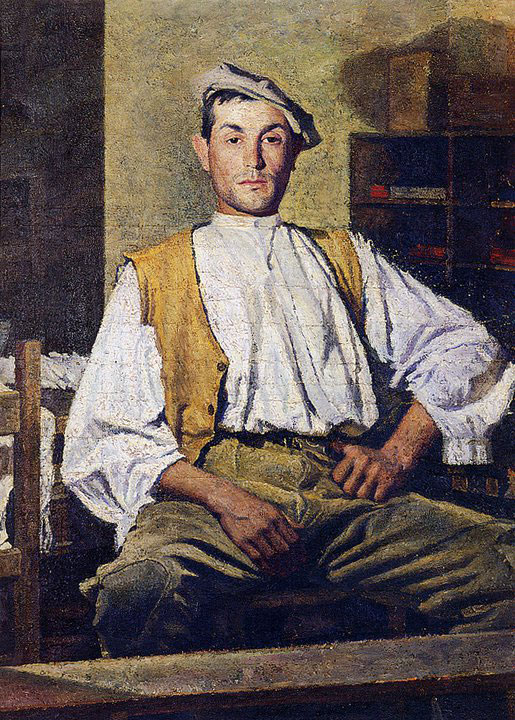 "I threw all myself towards a full paste render. A crazy expenditure of colours, but to get, on the other hand, an extraordinary vigour of shapes, a higher rapidity of execution, a great modernity".
From the biography of Brancaleone Cugusi da Romana we know that he was a self-taught artist in the most literal sense of the word. Since he was very young he enjoyed, or better he felt the urge to sketch objects and people around him. His sketches were immediate, almost graphic notes obtained with few pencil strokes that he did on note books, book covers, and later on, on albums that he always kept close to him.
In the roman period (1930-1934), his portraits are half figure, rarely full figure, with anatomical details perfectly described. Other characteristics are the way he treated the colour, with a smooth paint, very stretched, that later he disowned defining it as 'too polished' or "too fake". In the Cheremulese period (1936-1940), he elaborated his technique to "half paste" and to "full paste".
During his first stay in Rome, he often frequented the studio of the Artist Ferruccio Ferrazzi, where he deepened his knowledge of Piero della Francesca and all the great portrait painters of the Renaissance.
From studying the works of the Roman painter Antonio Mancini he learnt the use of photography and the grid to support the absolute in respect to the proportion in a portrait. In the first period, like Mancini, he removed the threads from the grid, and cancelled the trace. In later works, of more importance, he left a sign in evidence for a type of intellectual honesty, not wanting to hide anything of his method of work. These signs are also a kind of trade mark of authenticity for the paintings that he rarely signed.
Alternately he often used the spatula instead of the paintbrushes, which he forgot to put back into place preferring to hold them between his teeth.
In his search for precision he not only painted the object that he could see in his visual field, but also that of the shadows of external objects projected into his visual field.
From the way he captured the shadows and the subjects of his work, so close to the 'everyday realisms' of Caravaggio, the influence of the seventeenth century painter can be seen. His painting was also compared, in some respects, to that of Mancini and for others to that of Piero della Francesca, Zurbaràn and Vermeer.
The art critic Vittorio Sgarbi on Brancaleone Cugusi da Romana:
Brancaleone Cugusi da Romana was a formidable photographer, from every painting there exists the photographic prototype.
The Canvas of Brancaleone da Romana are all life size; which comes guaranteed from the procurement of the grid, which allows no deviation, not even one millimetre from the prototype photograph. Brancaleone Cugusi did not copy the photograph, although it seemed to him useless to keep models posing when he could capture them through a photograph. The soul was in the painting, and in the skill of capturing the element that escapes the photograph, the shadow. No painter, not even Caravaggio has painted shadows like Cugusi.
He draws and paints on canvas using a paint of fluid and mobile paste, the one he used to call "a tutta pasta", toned towards a green and an attributed shiver of life, to a composition and to an idea of form, that otherwise would have fallen back to the term of "academic tendency" which he had wanted to avoid.
(Vittorio Sgarbi – Brancaleone da Romana – 2004 – Skira publisher, Milan)